One of the most acclaimed restaurant rankings – The World's 50 Best Restaurants will announce this year's list at a ceremony on 18 June.
What to follow
Eleven Madison Park was the winner last year but with four months renovation works last year and the steep competition their top spot is far from secure this year. There will be newcomers to the list and we can't wait to find out who they are. There will be a name certainly missing despite all the critics' praises – the recently reopened Noma in Copenhagen as it lacks the minimum time since opening to be considered for the price.
Watch the ceremony live
The website finedininglover.com is live streaming the ceremony. Watch it live starting at 21:45 EEST on 19 June 2018.
The World's 50 Best Restaurants for 2018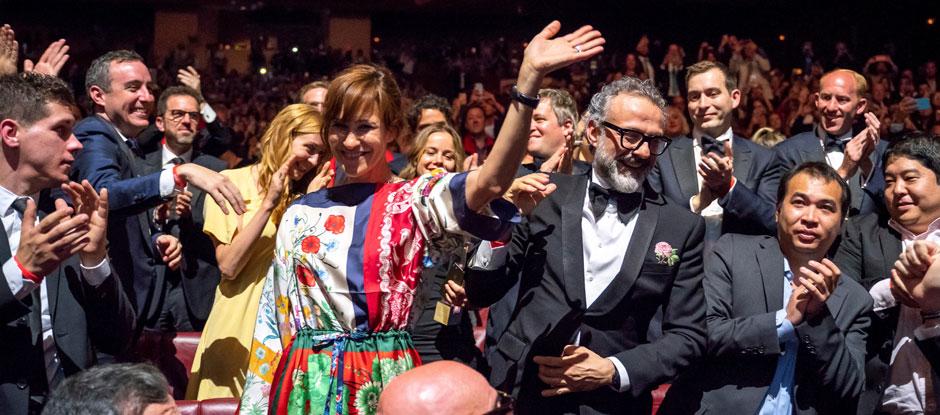 The best restaurant in the world according to the ranking is Osteria Francescana and chef Massimo Bottura and his innovative approach to traditional Italian cuisine. El Celler de Can Roca takes the second place and last year's winner Eleven Madison Park takes the fourth. The closest to Bulgaria restaurant in the ranking is Hiša Franko in Slovenia listed at 48th place.
Here is the complete list:
1. Osteria Francescana (Modena, Italy)
2. El Celler de Can Roca (Girona, Spain)
3. Mirazur (Menton, France)
4. Eleven Madison Park (New York, USA)
5. Gaggan (Bangkok, Thailand)
6. Central (Lima, Peru)
7. Maido (Lima, Peru)
8. Arpege (Paris, France)
9. Mugaritz (San Sebastian, Spain)
10. Asador Etxebarri (Axpe, Spain)
11. Quintonil (Mexico City, Mexico)
12. Blue Hill at Stone Barns (Pocantico Hills, USA)
13. Pujol (Mexico City, Mexico)
14. Steirereck (Vienna, Austria)
15. White Rabbit (Moscow, Russia)
16. Piazza Duomo (Alba, Italy)
17. Den (Tokyo, Japan)
18. Disfrutar (Barcelona, Spain)
19. Geranium (Copenhagen, Denmark)
20. Attica (Melboure, Australia)
21. Alain Ducasse au Plaza Athénée (Paris, France)
22. Narisawa (Tokyo, Japan)
23. Le Calandre (Rubano, Italy)
24. Ultraviolet (Shanghai, China)
25. Cosme (New York City, USA)
26. Le Bernardin (New York City, USA)
27. Boragó (Santiago, Chile)
28. Odette (Singapore)
29. Alléno Paris au Pavillon Ledoyen (Paris, France)
30. D.O.M. (São Paulo, Brazil)
31. Arzak (San Sebastian, Spain)
32. Tickets (Barcelona, Spain)
33. The Clove Club (London, UK)
34. Alinea (Chicago, USA)
35. Maaemo (Oslo, Norway)
36. Reale (Castel Di Sangro, Italy)
37. Restaurant Tim Raue (Berlin, Germany)
38. Lyle's (London, United Kingdom)
39. Astrid y Gastón (Lima, Peru)
40. Septime (Paris, France)
41. Nihonryori RyuGin (Tokyo, Japan)
42. Ledbury (London, United Kingdom)
43. Azurmendi (Larrabetzu, Spain)
44. Mikla (Istanbul, Turkey)
45. Dinner by Heston Blumenthal (London, United Kingdom)
46. Saison (San Francisco, USA)
47. Schloss Schauenstein (Fürstenau, Switzlerand)
48. Hiša Franko (Kobarid, Slovenia)
49. Nahm (Bangkok, Thailand)
50. Test Kitchen (Cape Town, South Africa)